Overview
Facad is a very powerful, flexible, and easy-to-use software that can be used both for tracing with cephalometric analysis, and for treatment simulation with soft tissue profile prediction.
Patient list
List of patients that has been traced in Facad;
fast
easy to search/filter for a specific patient
last used patients always on top
sortable with a click on the column headers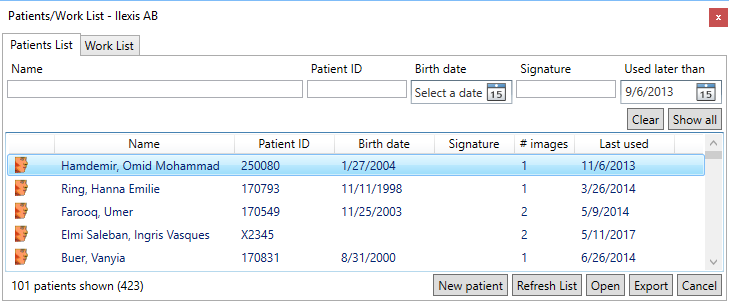 Image/Tracing Manager
A visual overview with image thumbnails, and management of a patient's personal data, images and tracings.
Images and tracings are organized in examinations in which images are taken from the same examination date.
A specific tracing can represent e.g.
an original pre-treatment tracing,
one of several alternative treatment plans, or
a post-treatment follow-up tracing.
A tracing can also represent a combination of several tracings, a so-called superimposition.