New version of Facad is released, version 3.11
The new Facad version 3.11 is now released.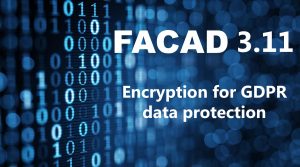 Patient integrity and GDPR
Version 3.11 now introduces the possibility to encrypt Facad data when new patients are created, thus enabling Facad users to comply to GDPR (General Data Protection Regulation).
To enable this feature, the patient integrity mode in Facad must be turned on and an extended user license for the Facad software is required.
This extended user license is not included in existing support agreements and needs to be purchased separately.
Ilexis AB also offers the service to encrypt data and rename all files and folders in existing Facad data structure.
Read more about the new functionality in version 3.10 and 3.11 in the Release Notes here.
Portuguese
The software and the User's Guide (Guia do usuário) is now also available in Portuguese.
New standard cephalometric analyses
Tübingen analysis
Sato Dental Frame